Event - Workshop
EU CAP Network Workshop 'Animal welfare and innovation'
The EU CAP Network workshop 'Animal welfare and innovation' took place in Hanover (Germany) from Tuesday 9 May to Thursday 11 May 2023. All background documents, presentations, and a photo selection can be found on this page.
English

Workshop 'Animal welfare and innovation' -

Hanover,

Germany

In-person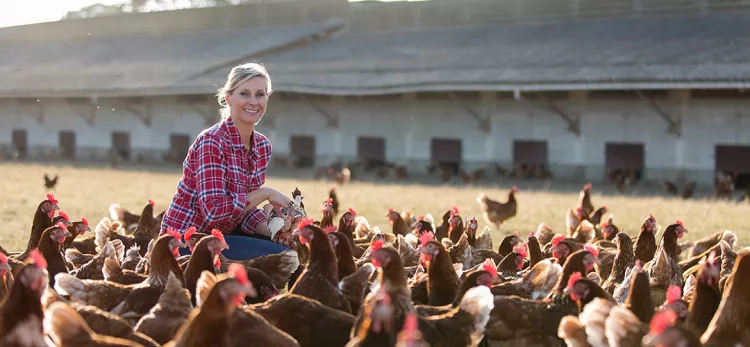 An open call for participation was available until 27 February, 23:59 CET.
The EU CAP Network workshop 'Animal welfare and innovation' focused on exchanging innovative practices and practical knowledge on animal welfare, especially on:
Cage-free production systems
Animal welfare indicators and monitoring methods for practical use on the farm
Meeting societal demands: Animal welfare labelling and certification
The event welcomed farmers, advisors, projects and initiatives related to animal welfare, including EIP-AGRI Operational Groups and Horizon 2020 / Europe projects, retailers, NGOs, and others interested in sharing their knowledge on animal welfare and innovation at farm level.
Description
The workshop offered a platform for participants to share their knowledge, innovative ideas and inspirational practices in animal welfare management at farm level. The aim of the event was to support farmers in coping with animal welfare standards and preparing for cage-free animal production systems, to use effective methods to monitor animal welfare, and to meet related societal concerns and market demands for animal-friendly food.
Specific objectives
Exchanging knowledge on successful practices, opportunities and tools relevant to animal welfare, specifically on:
Best cage-free practices, for example for laying hens, sows and calves;
Animal and resource-based measures as indicators to monitor and improve animal welfare;
Innovative farming systems, precision livestock farming to improve animal welfare and sustainability of poultry, pig and cattle farms;
Responding to societal demands, and taking advantage of new commercial opportunities and added value of high-welfare products through information campaigns, certification and labelling schemes, and marketing;
Farmers' incentives to adopt higher welfare standards;
Farmers' job satisfaction, and societal acceptance of livestock farms
Identifying challenges and exploring potential solutions to improve animal welfare in different production systems;
Identifying the practical needs for implementing higher animal welfare standards, and possible knowledge gaps that need research;
Promoting networking among EIP-AGRI Operational Groups, Horizon Europe multi-actor projects and other relevant, innovative projects that deal with topics covered by the workshop.
Who will participate?
The workshop focused on farmers, advisors and other relevant stakeholders who can provide advice and inspiration on animal welfare practices and monitoring indicators at farm level.
Participants included advisors and researchers involved in developing and disseminating good practices for animal welfare. Advisors play an essential role in transferring innovation and knowledge between and to farmers and other actors in the livestock supply chain. We also aimed to include actors such as the feed industry, slaughterers, processors, retailers, and NGOs for animal protection.
Brokerage activity
The workshop included field visits, as well as a brokerage activity where participants had the opportunity to network and exchange ideas to accelerate the uptake of best innovative practices.
Additional info
Venue
Workshop 'Animal welfare and innovation'
Hanover Germany
Organiser
Directorate-General for Agriculture and Rural Development & Support Facility for Innovation & Knowledge exchange including EIP-AGRI
EU CAP Network