News |
Launch event: Focus on communication tools and products
During the official launch of the EU CAP Network, stakeholders were introduced to the newly formed Communication and Logistical Support Team.
Three sessions took place on the day.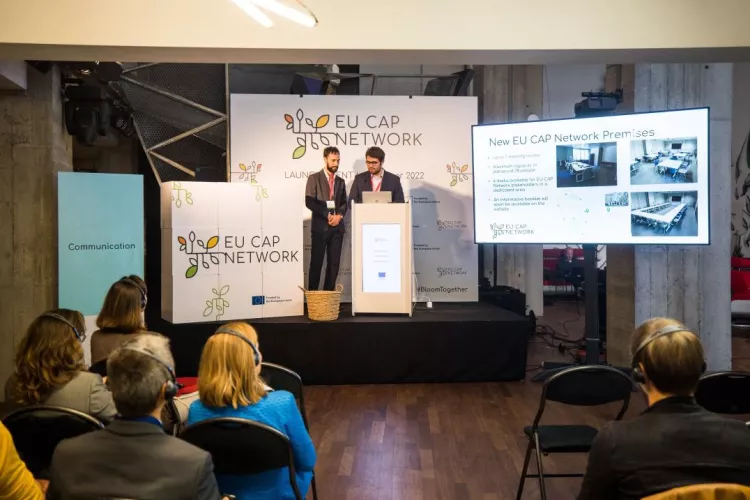 New communication tools and products
The first introduced participants to the new communication tools and products of the EU CAP Network. These include a brand-new visual identity, social media channels, a website plus an upcoming series of podcasts and videos. There was also a presentation about the new EU CAP Network headquarters (avenue des Arts 9bis, Brussels). The aim is for the communication tools to allow stakeholders to share news, stories and information relevant to others. Thematic publications will focus either on implementation, innovation and knowledge-sharing or evaluation. 
For more information, please refer to the presentation slides.
Developing a new Communication Strategy
In the second session, stakeholders shared their expectations with regard to the flow of communication within the EU CAP Network. The need for more concise publications, particularly newsletters, and the importance that participants attach to receiving information in their mother tongue were major highlights. The importance of communicating on different channels, as in some countries some work better than others, was also underlined. For example, stakeholders from Estonia and Czech Republic noted the relevancy of Facebook for their stakeholders, whereas Twitter appeared to be the most efficient social media tool in Belgium and France. Other ideas included focussing more on the exchange of good practices (e.g. in relation to CAP Strategic Plans), using podcasts, short videos and pictograms and having knowledge days focussed on farmers. The outputs of this session will be used to draft the next Communication Strategy. 
Stakeholders' communication projects
The third and final session allowed stakeholders to share their communication projects. Many stakeholders took the floor to present written, audio and video projects organised at the national level. The responsible for these projects were encouraged to get in touch with the Communication team to identify synergies and promote their projects at the European level. 
For more information please contact: communication@eucapnetwork.eu